Hack #2 for a WOW CX Management
Make it Simple and Fast to Succeed in your CEM Efforts 
Make it simple and fast! We are not just talking about making surveys short for your target audience (but you should!), but making the process of conceiving surveys efficient for you and your organization.
Moreover, Voice of the Customer, NPS, and Customer Experience Management Programs require constant optimization and monitoring. Hence, it makes sense that managing your CX efforts should be effortless!
Measuring your customer's experience should be an experience itself, so make it worth from the moment of conception, to the making, all the way through implementation and project closure. This is why it is so important to choose the right vendor services for your CEM. 
So, here's the reason why OPINATOR makes available a dedicated team to grant you the best experience at any stage of your project. However, if you wish to manage it by yourself, the platform it's completely intuitive and gives you room to take full control over development. 
Let's now dive deeper into why and how you should keep things simple and fast
Can you believe in 2020 people are still getting emails titled: "You've been selected to complete a  short 9-minute Survey"? The real question is: WHO IS FILLING THESE OUT? We know, no one. 
'We value your opinion' What a stupid statement!  – Stupid surveys are all take and no give – David Meerman Scott
Like David Meerman Scott (CX professional) says, each time you interact with your customers the wrong way, it becomes a missed opportunity from your end. If you approach your customers simply and fastly, you can not only be collecting valuable insights from them but building a relationship. 
You need to do better than "a 9-minute survey". And you can! By saying goodbye to long, endless, old, and boring surveys and start caring about your customers by building meaningful and brief digital interactions.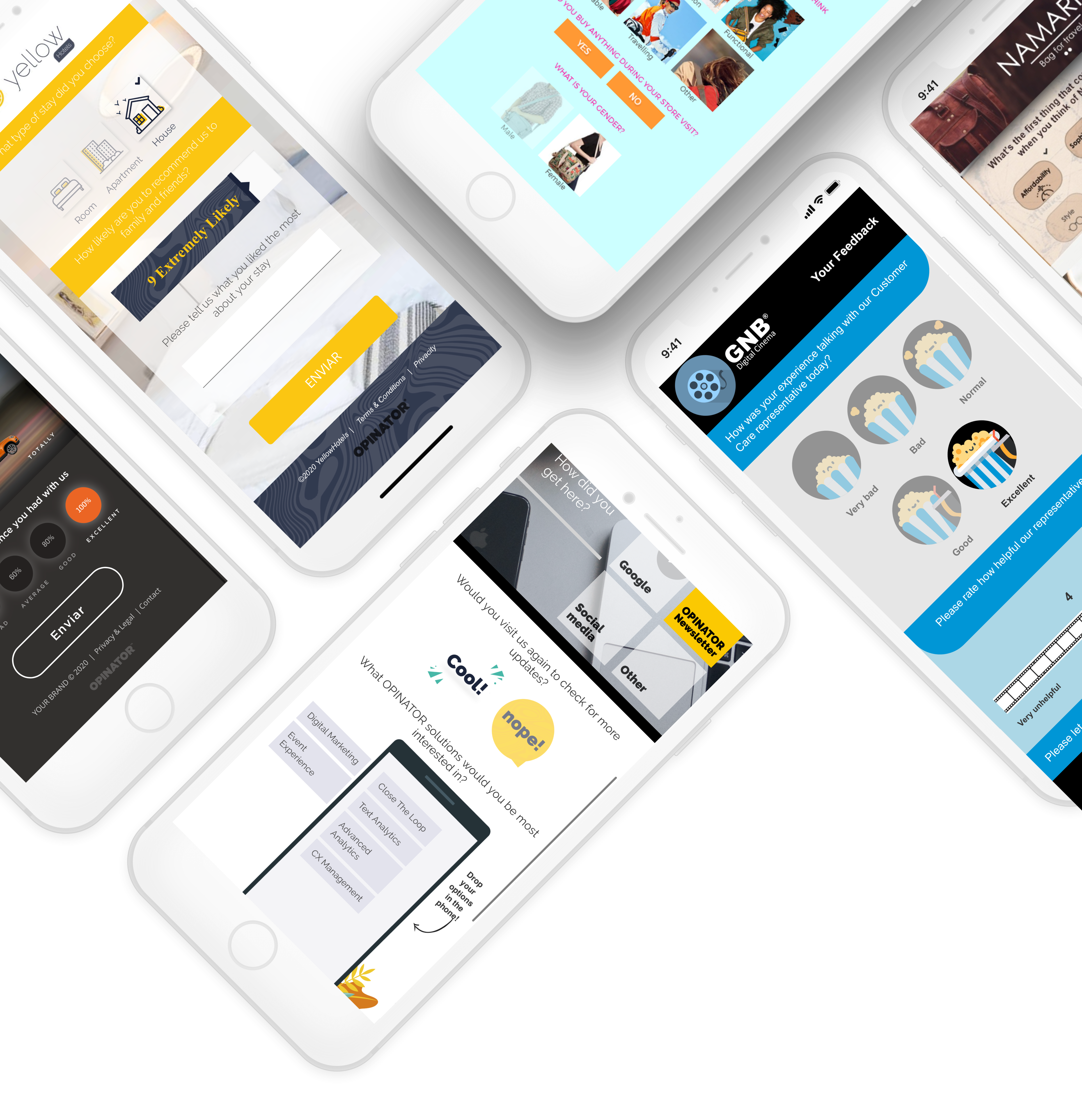 Make CX Fast And Simple 
Use brief and direct interactions that last

seconds, not minutes.
We live in a very frantic world. No one is going to give you even a minute of their time. But it's just with a few seconds you can accomplish a lot by combining them with techniques such as design, being in the right place at the right time, being relevant and being context-dependent. This way you are going to nail it! 
Keep it to

one page. 

Ideally

no scrolling.

4-5 questions, tops. 

If more needed – Apply A/B Testing, personalization, or other techniques.
KEEP IT DOWN TO ONE PAGE! Studies show how you lose engagement from your audience when you have to go from one page to the next one and so on. Customers will not even start answering your questions. 
Ideally have 4-5 questions in one page with no scrolling. There is a 45% increase in response rates when you come down from 10 to 4 questions. 
If you find yourself needing more insights there are things that you can do. Of course, we've handled projects that needed in-depth information about their customers, which made their surveys long.
There are ways to apply, for instance, A/B Testing, so that each individual will get to respond to just a few questions, but as a whole, you will get many more responses. 
Self Management is Key 
A WOW CX Management is not just caring about your customers but also about your people and yourself as CX practitioners. 
With OPINATOR, you'll get an easy to use, self deployable platform and a robust back-end, you will be able to create and edit your own OPIs very easily.
Start generating value from your customer's feedback with OPINATOR!