Hack #1 for a WOW CX Management
An Emotional Connection is Key to Deliver a Superior CX & Succeed in your CEM Efforts 
Measuring an experience should be an experience itself, making each client experience a unique path. A path that is personalized just for them, that reacts in real-time to their responses, while making them feel like it is fast and easy. This leads to the establishment of an emotional connection and bond with your customers. 
The end goal of any business is to sell, but gaining loyal customers is equally as important. So how can you retain your clientele? How to make them loyal to your brand? Companies are saying they are unable to connect with their customers, listen to their voices, and to create a connection with them. What can be done? 
Building an Emotional Connection  
To captivate your clients, you must give them some added value in exchange for their willingness to give you honest feedback. To show them how much you want to be the company that has a solution for their needs.  
It does not come down to the number of interactions you have with your customers, but to the quality of those interactions. 
Obtain valuable feedback from your customers so that you can improve those customer relationships. It is that customized attention you give to them that makes a customer feel satisfied and what makes them decide to come back to your company because he or she would feel heard and valued.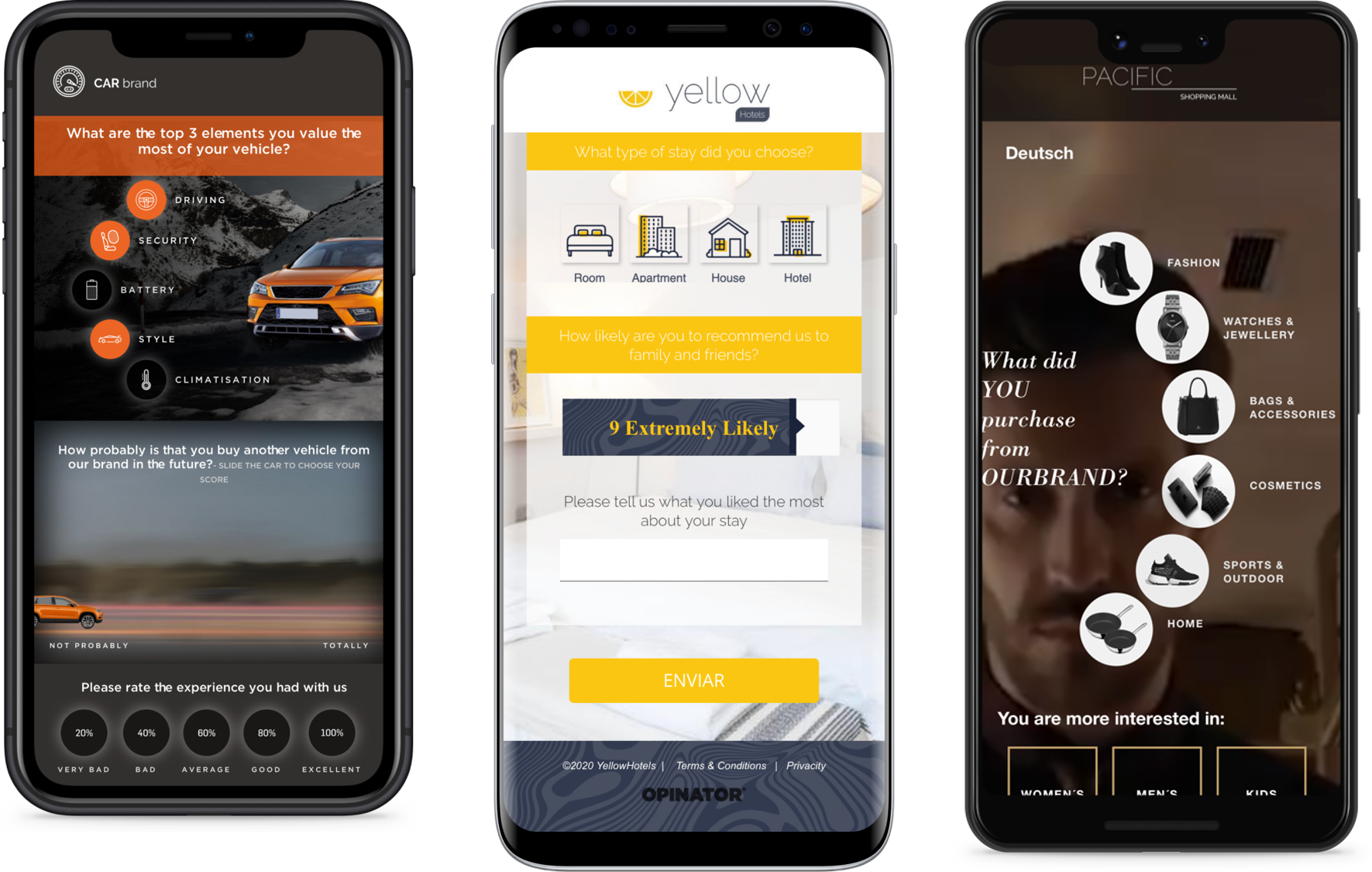 Generate value from your customer's feedback with OPINATOR
Take the time to listen to your customers with OPIs, and ditch (for good!) old, boring, and ineffective surveys and forms. Create very visual, engaging designs to catch the attention of your customers. Stand out from the pack!
Turn your surveys into an extension of your brand and leverage the power of it with innovative elements of interaction! Move beyond old elements of interaction such as five-stars and use your own products and services to interact with your customers. 
Boost your response rates and engagement up to 10X, leaving boring and ineffective surveys behind with fully responsive design, optimizing the look & feel, to guarantee a perfect experience for every device.
The importance of what it means to listen to your customers to create an emotional connection is tremendous. Creating personalized questions for your customers depending on their journey and specific responses they give, can grant you powerful insights that you can use to act-on, in real-time. 
"Customers want to feel fulfilled, either because the product fills a need or because they feel loyal to it. You might have both kinds of customers, and you must find ways to appeal to each type." Business News Daily
These insights give you the ability to use emotional data to create bonding opportunities with your customers.  
This will make customers feel as if they are part of the process of your company's decision making, while you create an emotional connection with them, making your customer experience, precisely, a WOW experience.