Hack #4 for a WOW CX Management
Real-Time Decisioning, a must for Experience Management
To enhance the value when a customer interacts with your brand and being able to act in real-time, use the information you already have about them, and combine it with the context of the moment, the actions they have executed until reaching a certain point, the moment of the customer journey in which they are, with the objective of giving them an answer according to their exact circumstances. Personalization in Experience Management is key!
You already know that information is powerful, and with your customers' digital interactions you have several opportunities and sources to enrich their experience (as well as improving the information you collect): context, events, things you already knew, things customers tell you, their way of behaving at different points of contact, among many others.
With a clear trend towards data and analytics, the process of collecting feedback can no longer be limited to storage. We are collecting the most important part of digital communication, which is the company-customer interaction, where your customers establish communication in a proactive way.
Deploying a real-time decisioning solution means acting immediately at all your customers' touchpoints, regardless of the channel from which they access your brand, making operational decisions based on data (past, new, and live). 
To implement properly the real-time decisioning process, you must take into account 3 basic pillars of action:
A

multi-response system:

Be able to respond to each of your clients with the most accurate answer in each situation, to create a meaningful and profitable interaction for your company.

Actionable intelligence:

Combine the information you get from your customers with the existing information. From there, take the best decision in real-time, and make positive use of information.

Omnichannel and saturation control: You need to have the ability to respond instantly to different people in different ways, and of course through any channel.  Due to the saturation control, your customers will have different questions shown even if they go through the same touchpoint, so they don't feel they are always bombarded with the same forms. Show them something different every time and enrich your gathered data!
Making data-based decisions has always been a slow and time-consuming process for companies because of the time and effort required to obtain insights, store them, and prepare them for analysis. Thanks to digitalization -and with OPINATOR-, this information is at your fingertips in a matter of seconds, so you can take real-time decisions instantly.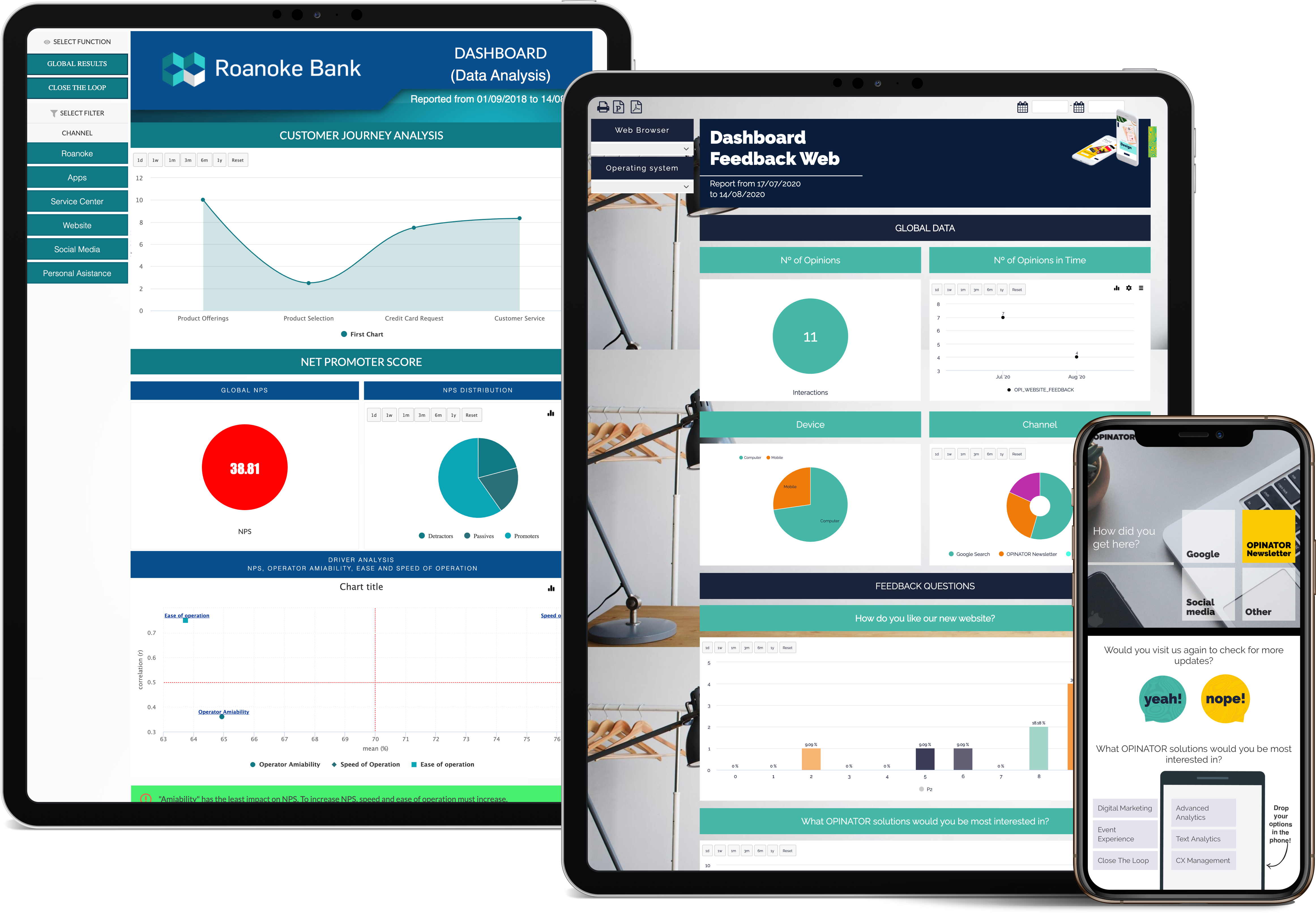 Advance your Clients
A Customer First or Customer Centricity philosophy, along with technology and knowing how to collect and use quality data, will enable you to put customer needs first and stay one step ahead of competitors.
Through AI and feedback, you can automate responses and predict the behavior of each customer, as both give you the opportunity to identify and get value from the insights you learn from interactions.
In OPINATOR you have Dashboards to analyze all your projects, Text Analytics to generate value from unstructured data coming from free text fields, Close The Loop (a Case Management system) to generate red flags, and manage exceptional situations, and all these products are self-manageable and completely customized for you and your brand.
The biggest gaps in real-time customer analysis capabilities are in the areas of accessing customer data, performing analysis of that data, and taking action on the resulting knowledge. – Forbes

Benefits of Making a Real-Time Decisioning

Faster and more informed decision making enables you to stand out in many ways from your competitors:
An increase in response rates of your surveys, leaving behind boring and ineffective surveys and surprising with

OPIs

Optimal quality of the information you receive, therefore your decisions will be based on facts

Greater engagement and commitment from your customers by feeling heard and responded to, which will allow you to establish an

emotional connection

with your customers

Real-time information on what's going on around your brand

Using A/B testing to find out which form works best for you

Increase your brand's revenue by obtaining valuable insights and acting on them at the right time

Higher customer and prospect retention by reducing churn
Learn from your clients to support your results!
Real-time Decisioning + Omnichannel
OPINATOR is able to connect to all your channels, with a level of customization and decision making that will make your customers have a different experience in every interaction they have with your brand. This enables you to act and take action in real-time.
What company would want a service that will take weeks to deploy? None. Take advantage of collecting information from your customers for your real-time decisioning solution with services that can be fully implemented in a few days, and that suits you as an extension of your brand.
Start making real-time decisions from day one by getting to know your customers and receiving their feedback to make better decisions and create loyal relationships with them. 
It is extraordinary being able to make quick decisions about your business based on information reinforced by customers, and being able to manage it within your department, but also to know that you have a Customer Success team that is always willing to aid you in your decisions, this is what you get with OPINATOR.
Start getting value and making real-time decisioning, which will allow you to combine different types of data with unique architecture like OPINATOR, to get that real-time intelligence your customers need!