More and more customers answer surveys through digital channels where they express their opinion regarding processes, products or services.
But, what happens next? Does the customer feel that is being listened to? How are customer reviews being managed and prioritized?
For companies that place customers at the center of their strategy, gathering and managing customer experience information, as well as measuring and benchmarking, is key to innovating and differentiating themselves from the competition.
Without the right tools, it's not easy to maintain a meaningful and real-time connection with your customers.
To continue a conversation with customers based on their comments and responses left at the different touch-points, there are tools such as Close the Loop, a powerful module within the OPINATOR platform that allows you to track and manage insights and critical points in real-time making your customers feel heard at all times.
The fact that management has these types of tools to rely on, makes a huge difference for the customer, since there is usually a perception that the suggestions and assessments in this type of interactions do not receive any feedback from the company, seeming to "get nowhere".
New Webinar You Can't Miss!
OPI TALKS: a 45-minutes practical webinar focused on helping you to take advantage of OPINATOR and boost your CX and VoC program.
¿How does Close The Loop work?
When a customer sends an opinion through a digital interaction (for example, a satisfaction survey at the end of a purchase process), Close The Loop automatically generates a Case/Ticket, which will be assigned to a manager within the organization so that he/she can contact the customer and find out, for example the reasons for their dissatisfaction, in order to provide a solution according to their needs.
The module automatically provides contextualized information on customer feedback: ratings, survey responses and comments and all associated historical information available. In addition, the tool allows to automatically give each Case/Ticket a priority level, a status, a root cause, etc.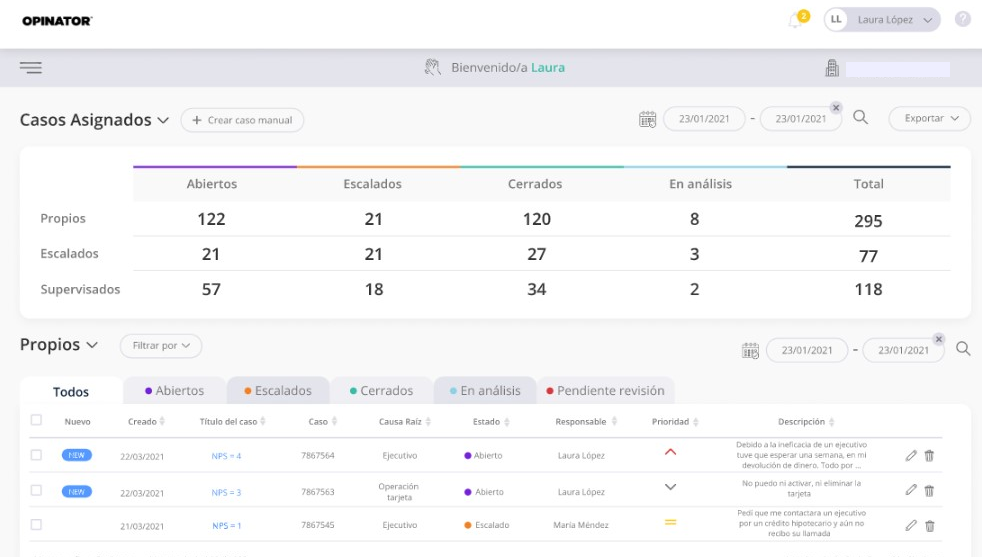 From the Management screen, the user has access to all case information and can take actions such as calling the customer or contacting them via email, with the possibility of using customized templates.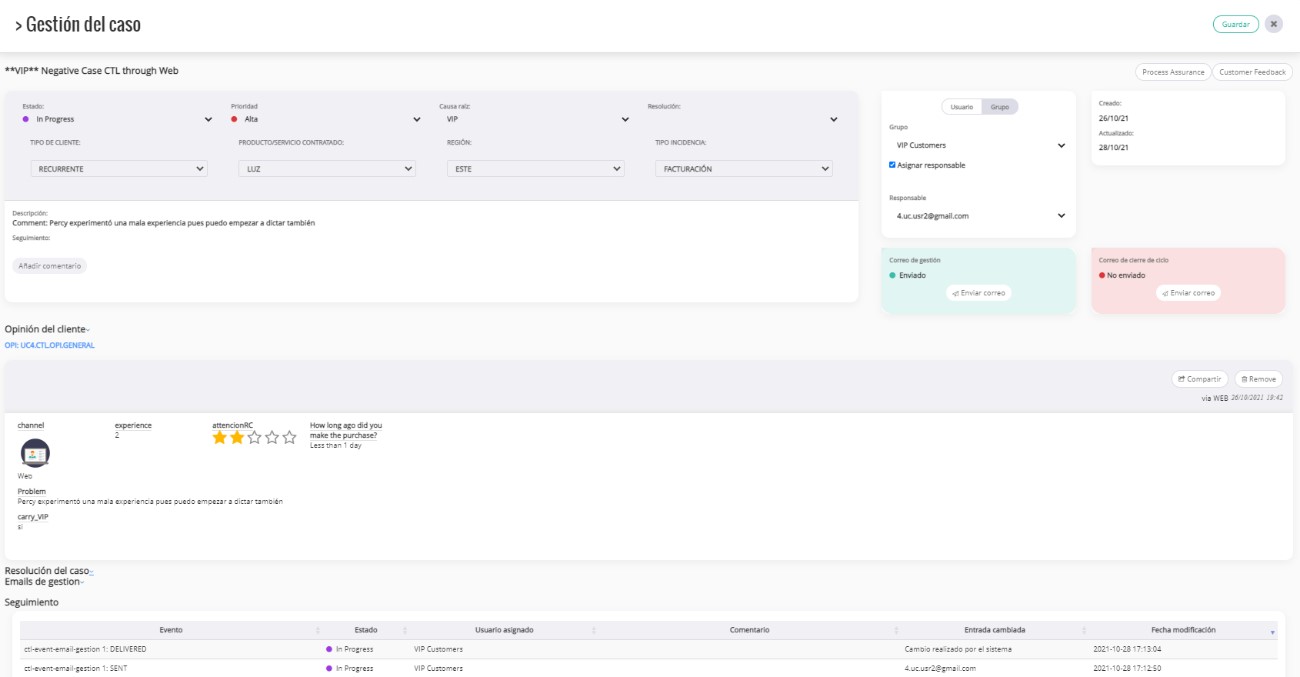 During the interaction, the agent handling the ticket has
interactive management instructions
available at all times that will allow them to know how to handle each type of incident appropriately.
In addition, forms can be defined with the key information to be obtained from the customer, so that it is always collected and associated with each case.

In short, Close The loop allows you to create Cases/Tickets when predefined conditions are met in the user's answers.
Some examples of situations in which a Case/Ticket could be created automatically: if the customer marks the Dissatisfied option in the Satisfaction question, or uses the word "disappointment" in a free text question, or rates an NPS question with less than a 6 and is a customer with a Premium rate type, among others.
Close The Loop means going one step further in CXM
Personalized attention demonstrates to the customer that their opinion is being listened to, provides a positive corporate image and contributes to the collection of greater and more valuable feedback in this second interaction with this customer, who is already an important source of knowledge for the company by virtue of being a dissatisfied customer.
The difference between acting in real-time on a customer's feedback and doing so within a few hours, a day or a week is more and more often the difference between keeping or losing that customer.
Close The Loop makes it possible to act in real-time and in a personalized way on customer feedback, thus helping to increase customer LTV and decrease churn among the companies that use it.
And ultimately, the feedback collected and managed through Close the Loop will help generate actionable insights to increase customer loyalty, improve retention and optimize products and services.
If you would like to see a real-time demo, please contact us by clicking here.